A Note on the Oysterquartz Case Design
In 1972 Audemars Piguet introduced the Royal Oak, a watch designed by Gerald Genta and considered by many to be one of his finest creations. When Rolex introduced the the 1530 and 1630 Perpetual models two years later (which use the same case design as the Oysterquartz), many critics accused them of copying the "style" of the AP Royal Oak. This criticism is unfair, in my opinion, and ignores many of the very early Rolex Viceroy and Imperial Oyster case designs which are clearly the archetypes of the Oysterquartz case. Indeed, it could be argued that Gerald Genta may have used these early Rolex designs as the styling inspiration for the AP Royal Oak.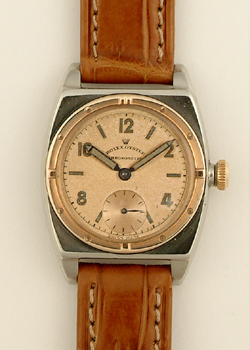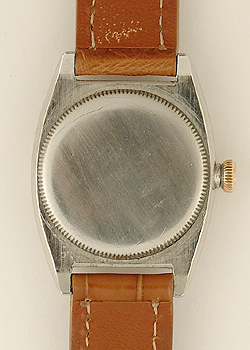 It's easy to see that the style of the Oysterquartz is fully in keeping with previous Oyster case designs, and rather than representing a radical departure for Rolex was in fact an expression of continuity tied all the way back to the earliest days of Rolex's patented waterproof watches. Nevertheless, the substantial case design with its integrated bracelet with solid center links on the 17000 model (a first for Rolex) yielded a watch that was as heavy in gram weight as a modern Sea-Dweller Ref 16600, which made it much heavier than any contemporary Oyster Perpetual Datejust or Date models (except, of course, the 1530).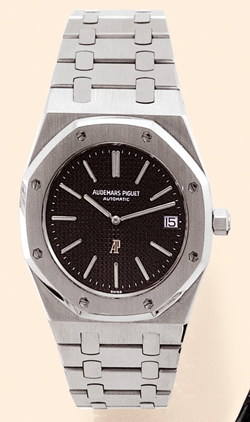 Vintage Rolex photos courtesy of Archimedes Spiral.
Royal Oak photo courtesy of Antiquorum.
---
---
The entire contents of this website is Copyright © 2005 - 2009 by Gary M. Frazier. All rights reserved. This material may not be published, rewritten, or redistributed in any way. The copyright for photographs used from other websites remains with the respective owners and credit is given where the photographer is known.
Questions or comments about this website may be directed to gmf@oysterquartz.net. Please read the FAQ page before e-mailing me your questions. The answer you seek may already be there.
Oysterquartz, Datejust, Day-Date, and the Rolex coronet are registered trademarks of Rolex SA and/or Rolex Watch USA, Inc. Oysterquartz.net is not affiliated with the Rolex Watch Company in any way.